Planned activities as at APRIL 2013
Plans that are pretty locked in have a red border and black text.
Possibilities that are less certain have an orange border and grey text.
Ideas and thoughts that are still under consideration have a yellow border and lighter text.
Old and outdated plans are
here
so we can see how we did or went wrong
Tubingen, Germany
and The Black Forest
Tuesday: 9th April 2013 to
Tuesday 16th April 2013
Arrive in Frankfurt early Tuesday morning
Pick up Europcar and drive to Tubingen
Stay around Tubingen to see Sara
Daniel has Uni lectures during the week
At the weekend probably go to the Black Forest
drive to Gottingen Monday to Daniels
Drive to Barlin to catch plane to Morocco
Tuesday: 16th April 2013 to late May 2013
Fly from Berlin to Agadir on 16th April.
Agadir is on the Atlantic Coast in Southern Morocco.
We will be riding our Bike Friday tandem touring bike and towing a trailer.
We hope to head south and ride in to the Anti Atlas Mountains.
We plan a loop to return to Agadir and then up the coast to Essaouira.
Then inland to Marrakesh.
We may catch a bus from Marrakesh to Casablanca
We plan to end up at catching a ferry across to Gibralta.
Here is a map showing a rough plan: (click on map to enlarge it)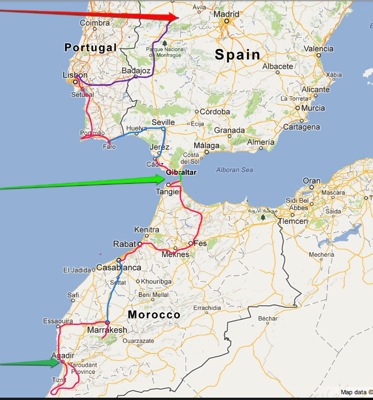 The green arrow shows the Start: we fly from Berlin to Agadir on 16th April 2013
The pink is a possible cycle route.
The blue is possible bus
The light green is a ferry from Ceuta to Gibralta
The Purple is a hire car, maybe from Lisbon or where ever we get to around the end of May
The red arrow points to Piedrahita where we have a week from 2nd t0 9th June and Gary will be paragliding there.
We will then probably fly back to Stuttgart before flying home on 19th June.
We hope to catch a ferry to Gibralta and then ride along the coast through Spain to the west.
Our aim would be to make it to Lisbon in Portugal.
This is about 1000km from Gibralta so we may well take a bus some of the way.
We would then hire a car to drive to Piedrahita
Sunday: 2nd June 2013 to Sunday 9th June 2013
Piedrahita is in Spain between Madrid and Salamanca
We have booked a week with flypiedrahta
This is a great location to do Cross Country (XC) flights.
I have arranged to borrow my flying gear for the week.
We will have a hire car so Annette can visit so local sights and sites.
WE will spend at least a few days visiting Sara before flying home

Our flight home leaves Frankfurt on 20th June to arrive Sydney about 6am 21st June 2013
Home in time to celebrate
6th July 2013 to 21st July 2013
Camping at Sawpit Creek in Kate & Andrews Camper for a bit over 2 weeks.
Skiing at Perisher.
Penrose Forest, NSW
3 Ring Circus
We went in the 3 ring Circus last year and it was a great event so plan to do it again.
This is our first week at Beachcombers
We have a booking for 10.
Greg with Scarlet, Dallas and Marlow plus Mike and Jenny, Jack and Max plus Annette & I.
This is our second week at Beachcombers
We have the whole lodge booked
Saturday: 21st September to Saturday: 12th October
Booked to Fly Sydney to Rotorua:
Flight to Rotorua: Depart: Sydney 9:30 am Sat 21 Sep. 2013
Arrive: Rotorua 2:45 pm Sat 21 Sep. 2013

Emma & James booked for first 2 weeks which are the School Holidays.
We are staying on an extra week.

Wollongong Hign School 40th Reunion
Currently being organised for the year of '73
Bundanoon, NSW
Highland Fling
Mountain Biking
Race ~113 km
Again we hope to compete on our Tandem and get under 7 hours.
28th January 2014 to 20th February 2014
We would like to go to either Kicking Horse in Canada or to around Niseko in Northern Japan.
WE would like to be there for 3 weeks.
22nd February 2014 to 1st March 2014
Camping at Swansea for the week with the Eggers, Walshs and Neils.
Sunday: 2nd March 2014 to Sunday 16th March 2014
It is scheduled to run 3 or 4 course over the 3 weeks from 22nd February.
I plan to assist for the last 2 weeks.
Wed: 2nd April 2014 to Sunday: 6th April 2014
This is the annual Bike Friday gathering which we haven't been to for a few years.