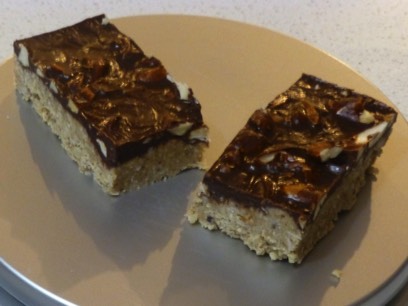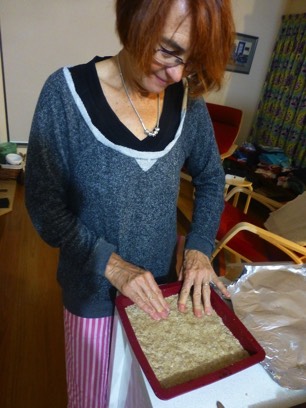 INGREDIENTS:
1 cup Almond Meal
2/3 cup rolled oats
6 Tblspns Inca Inchi protein powder
3/4 cup NZ WPI protein powder
1/2 cup shredded coconut
2 Tblspns Rice Malt Syrup
1/2 cup coconut oil
1/2 tspn sea salt
Vanilla or Cinnamon to flavour


Cacao Topping

1/2 cup cacao wafers
1/4 cup coconut oil
2 Tblspns Rice Malt Syrup
Pinch salt
1/2 cup almonds
METHOD:
Blend rolled oats till finely chopped. Mix almond meal, oats, shredded coconut, protein powders and sea salt.
Melt coconut oil over a low heat add rice malt syrup and flavouring.
Mix coconut oil mixture into dry ingredients until well combined.
Press mixture into a silicone or paper lined baking tray and chill in fridge for 30 minutes.
Whilst chilling make topping by combining cacao wafers, coconut oil, rice malt syrup and salt over a low heat till melted.
Spread cacao mix over chilled base and top with chopped almonds. Return to fridge till hardened.
Cut into 16 pieces (for ~50 gram bars) or as desired.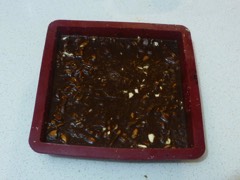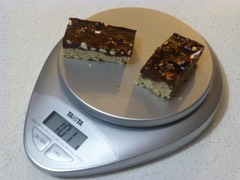 Chocolate Protein Bars
50 grams per piece.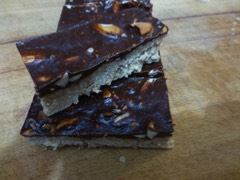 Recipe Analysis

Ingredients

Quantity measure

grams

calories

fat grams

protein grams

carbs grams

sugar grams

dietary fibre gms

Price $

energy Kjoules

base

Almond meal

1 cup

125

726.3

63.25

27.38

24.88

6.25

13.00

1.94

3037.50

Rolled Oats

2/3 cups

65

247.0

5.66

9.36

34.39

0.39

8.06

0.45

1020.50

Inca Inchi powder

6 tablespoons

60

249.0

3.60

38.40

15.00

0.00

0.00

4.35

1042.80

NZ WPI

¾ cup

75

285.0

0.75

67.80

0.68

0.68

0.00

3.60

1192.50

coconut shredded

½ cup

50

338.0

33.60

3.40

3.40

3.00

0.00

0.88

354.00

coconut oil

½ cup

100

861.0

100.00

0.00

0.00

0.00

0.00

2.83

3600.00

Rice malt syrup*

2 tablespoons

50

163.5

0.10

0.00

40.00

27.50

0.00

0.50

685.00

Topping

coconut oil

¼ cup

50

430.5

50.0

0.0

0.0

0.0

0.0

1.42

1800.00

Rice malt syrup*

2 tablespoons

50

163.5

0.10

0.00

40.00

27.50

0.00

0.50

685.00

Cacao waffers

½ cup

75

461.3

36.00

9.83

25.43

1.35

0.00

3.75

1930.50

almonds

½ cup

75

446.3

39.00

15.75

15.75

3.68

8.18

1.17

1865.25

totals

total mixture

775

4371.25

332.055

171.91

199.51

70.34

29.235

21.38

17213.05

percentages

100.00%

42.85%

22.18%

25.74%

9.08%

3.77%

serving

each slice

50

282.0

21.42

11.09

12.87

4.54

1.89

$1.38

1110.5

* rice malt syrup is a fructose free natural sweetener

NZ WPI is a whey protein made from milk and bought from professionalwhey.com.au

Inca Inchi powder and Cacao wafers are available from Changinghabits.com.au
REFERENCES:

Changing Habits web site has a similar bar which you may like to try
here