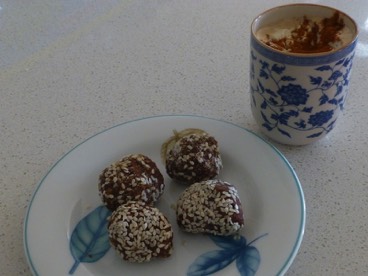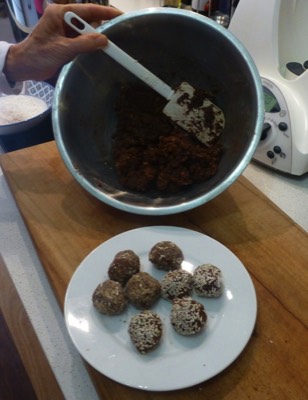 CHOC NUT BALLS

INGREDIENTS:


2 cup nuts (brazil or almonds)
1/2 cup nut spread (almond, peanut, cashew or tahini)
1/2 cup cacao powder (or to taste)
1/2 cup shredded coconut
8 dates (soften in boiling water)
1/2 cup protein powder
100g salted butter softened
4 heaped Tlbspns coconut oil softened
vanilla powder or ground cinnamon (your choice)
1/2 tspn sea salt


Fillers (optional)
LSA, chia seeds, maca powder, acai powder
METHOD:


Line baking tray. Roughly chop nuts in a food processor.
Smoosh up the dates to form a paste
Blend all the dry ingredients in a bowl.
Using a spoon, splodge the nut butter, coconut oil, butter and dates through
the dry ingredients. Don't be too concerned, throw in what looks good.
Add any fillers you feel will compliment your desires.
The coconut oil and butter will make this quite soft.
Roll into balls with sesame seeds or LSA as a coating or nothing is okay.
Place in the fridge for at least an hour before eating.
Will last in the fridge as long as they take you to eat them.