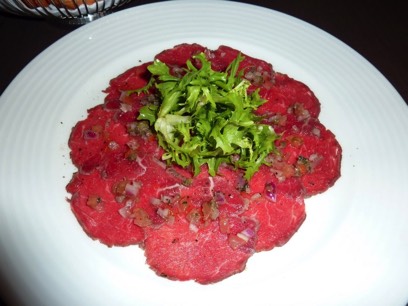 RAW BEEF,
thinly sliced and garnished, presentation is a key so look
here
there are many slight variation, here is one:


INGREDIENTS:

-6 oz. beef tenderloin (whole) -2 c. baby arugula -I tbsp. grated parmigiana reggiano cheese -I tbsp. extra virgin olive oil mixed with 1 tbsp. lemon juice -capers -2 tbsp. crushed sea salt & black pepper
METHOD:

Slice the marinated tenderloin paper thin (for best results, freeze for 1 hour prior to slicing). Divide sliced beef between two plates. Garnish each plate with 1 cup arugula. Top each dish with 1/2 tbsp. of reggiano cheese. Sprinkle with capers. Drizzle each carpaccio with 1 tbsp. of lemon & olive oil dressing.
ALTERNATE SUGGESTIONS:

many and varied garnishes and dressings
I like the sound of this one:

Trim 1lb/450g of beef topside and put it in the freezer. When it is part frozen and firm, take it out and cut thin slices, about the width of a strand of spaghetti or a little thicker.
•
Cut two large sheets of silicon baking paper. Place about 4 slices on one sheet, well distanced from one another. Place the second sheet on top and bash with a meat hammer or rolling pin until the slices have expanded and thinned. Peel them off the paper and lay on a plate. Repeat with all the beef and keep in the fridge, covered with clingfilm for up to 12 hours.
•
Make a dressing with 2 dessert spoons of Dijon mustard, 5 tbsp of extra virgin olive oil, salt, pepper and the juice of half a lemon. Scatter rocket, mustard leaves, dandelion or watercress leaves over the top and zigzag the sauce over them.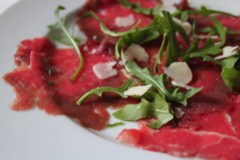 Served with shaved parmesan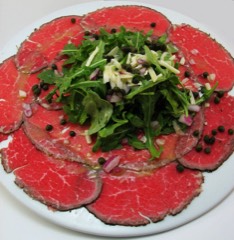 REFERENCES:

There are hundreds of useful references:
I really liked the sound of
this one
with roasted pine nuts & truffle oil.