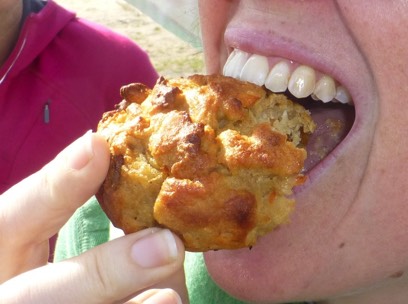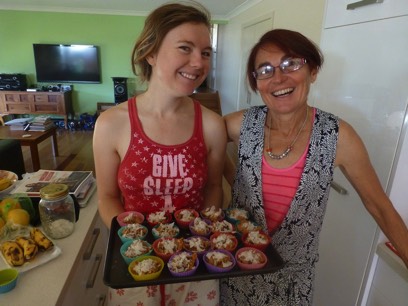 INGREDIENTS:

1
½
cups Almond meal
1/2 cup gluten free flour
2 teaspns baking powder
1 teaspn cinnamon
1 cup chopped dates
3 mashed bananas
3 lightly beaten eggs
1+1/2 cup grated carrot
1/4 cup melted butter
1/2 cup slivered almonds


METHOD:

1. Preheat oven to 180° C
2. Combine almond meal, flour, baking
powder and cinnamon.
3. Add dates, carrot, butter and
eggs and mix lightly.
4. Fold thru nuts.
5. Spoon large spoonfuls into silicone
patty or muffin pans.
6. Bake approximately 20 minutes
until browned and springs back
when lightly pressed.



PHOTOS:
Kate enjoying a "Breakfast Muffin"
Sara putting a batch on to cook
ALTERNATE SUGGESTIONS:
Use any nut meal or nuts that you like.
Substitute coconut oil for butter and coconut for slivered almonds
Use cacao nibs and goji berries instead of dates. (will be less sweet)
Use grated apple instead of carrot or bananas.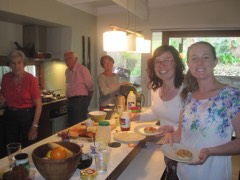 Pearl Beach: enjoying breakfast …. Muffins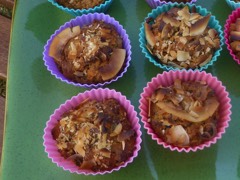 A batch with coconut flakes on top.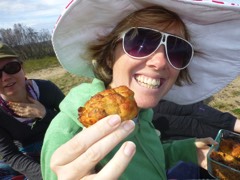 Picnic at Bouddi Nat Park, Box Head and a Breakfast Muffin
REFERENCES:

Adapted from a paleo recipe from Kate's friend Claire