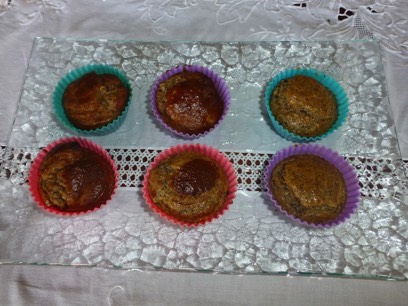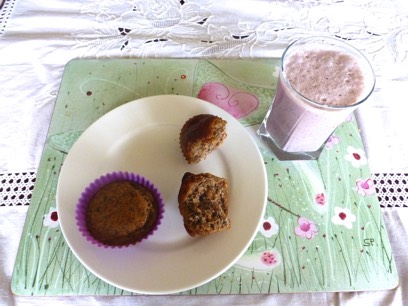 INGREDIENTS:

1 cup pecans or almonds
1/4 cup golden flax seeds
1/3 cup boiling water
1/2 cup arrowroot
1 teaspn salt
1 teaspn bicarb soda
1 teaspn cinnamon
2 Tblspns apple cider vinegar
3 eggs
2 tablespoons melted butter
2 smooshed bananas



METHOD:

Preheat oven to 180c. Soak the flax seeds in boiling water for 10 minutes.
Combine nuts, arrowroot, bi-carb, salt and cinnamon in Thermomix a chuz up to combine
and nuts are like breadcrumbs.
Add soaked flax seeds, eggs, vinegar, butter and bananas.
Shuz around till no lumps.
Spoon into 15 silicone patty cases and bake for 20 minutes.





ALTERNATE SUGGESTIONS:


Use some coconut instead of flax.
Use another gluten free flour e.g., rice, tapioca or began.


Filling or topping:

banana, macadamia-nut-butter, cinnamon and butter all fixed together.
Flax Nut Bread

Can be made without banana to make a tasty bread: see photos below.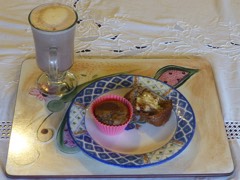 served with hot chocolate (no sugar of course) and filling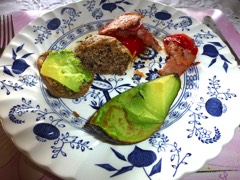 serving suggestion for Flax nut bread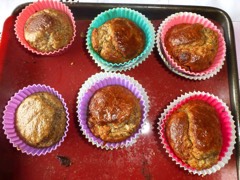 flax nut bread on left (not so brown)
REFERENCES:

Sarah Wilson: I QUIT SUGAR on page 154