Burma Overview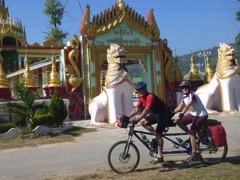 What a great trip, and now on the way home time to reflect
Here are some links to some summary pages:
PHOTOS my choice of 35 representative photos of our trip
STATISTICS & COSTS: where we stayed each day, how far we rode and hotel costs.
INFORMATION for others about where we stayed in each town, contact details etc.
Riding proved to be a great way to travel in Myanmar.