NZ MTBing aound the Nth of South Is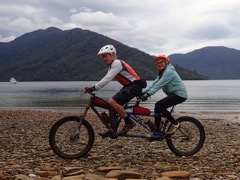 After the Heaphy we spent a few days riding in the north of The South Island.
We had driven from the finish of the Heaphy to Takaka about 80km east along the north of the South Island where we stayed Tuesday night.
We wanted to ride the Rameka Track which runs from the top of the Takaka Hill down to town. About 850m of decent.
It involved an 11km road ride from the highway which had some considerable uphill, but some great views of the coast.
Then the first 5km of the track there was a lot of getting on and off as the track dropped into steep sided creek crossings. Then the decent which was great. Unfortunately I chose to do " The Odyssey" rather than "Great Expectations" which ended up having lots of far too tighter switchbacks than we could ride.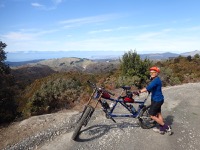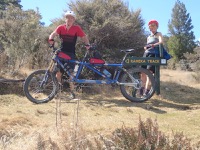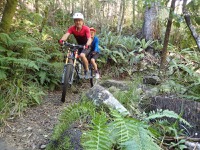 The view to the east on the road in. The start. The first section through beautiful forest.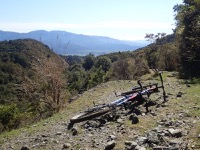 A view over Takaka where the Rameka finishes and the "Pack Track" starts… more great fun.
Thursday we decided to skip Kaiteriteri and head back to Nelson as Friday the forecast was for rain and we wanted to do Dun Mountain Loop and the Copper Mine Track.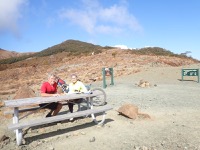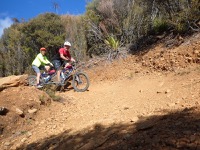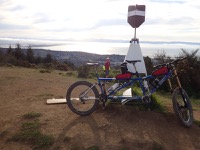 At the top of Copper Mine Saddle. On the way down the well formed Copper Mine Track. Above Nelson before Firball.
Friday it was raining and we did nothing much as we were inside the warm comfortable house of Andrew and Diana in Nelson, friends we had made while doing the Heaphy Track.
Saturday despite bad weather Andrew and Diana took us out for a short ride at Silvan Forest just a few kms west of Nelson.
It was very muddy, if you click on the photo below you will see our muddy bike after the ride. Luckily we have a spare doona cover to rest the dirty bike on.
We went back to Andrew and Diana's for lunch and to clean our bike and wash our clothes before a late departure to sleep near Portage on the Kenapura Sound Road. It was pouring rain.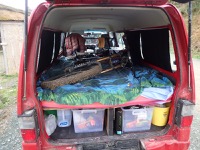 Sunday it was still raining but after a late breakfast below Kenapura Saddle it finally stopped raining and we headed out for about 2hours or 10km. We reached close to the head of Endeavour Cove before turning back and riding along to Punga Cove.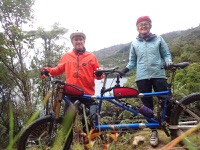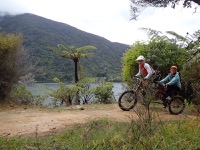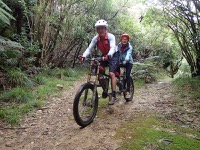 We started in full wet weather gear. Endeavour Inlet, our endpoint. The muddy track!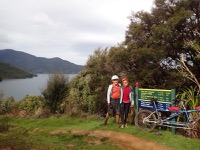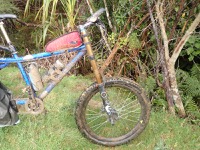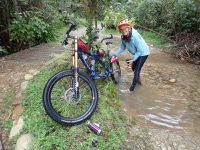 The Sound in the background. Our filthy bike. And cleaning the bike near the finish.
As we arrived in Picton the Blue Bridge Ferry was coming into port… perfect timing for the 7pm sailing to Wellington to end our South Island adventure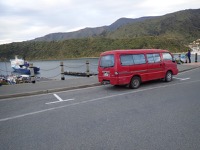 Raggedy Ann (our van) with the Blue Bridge Ferry in the background, just about to dock.
Rameka Track on Wednesday
Dun Mountain Loop on Thursday
Queen Charlotte Track on Sunday