Burma 7 Mandalay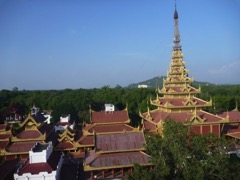 Rode to Mandalay Palace and then to Hill top
HERE ARE SOME PHOTOS
Taxi to the our Hotel
Our overnight bus trip finished about 6am on the a quiet street in and unidentifiable part of Mandalay. A trishaw wanted to take us to our hotel but when we pointed out our two huge bike suitcases he disappeared. We were contemplating our predicament when he returned with a taxi and there was a vague agreement about 7000 kyat. Fortunately we had our hotel name written down in Burmese (thanks Soesoe) as the taxi driver had no idea where it was and after he made a few enquires we were off.
Woodlands Hotel
was about 3km to the East of the Palace on the outskirts of town and had about 30 rooms in about 10 separate cabins. We were offers breakfast upon arrival and shortly after I assembled the bike and Annette was shown to our room. She was still a little unwell and slept for a few hours. We set off about 1pm and rode towards the Palace.
Palace and Mandalay Hill
We visited the Palace which had been built when Mandalay was established in 1857. The Palace was a huge moated area in the centre of the city. It had been destroyed at the end of World War 2 and had since been rebuilt. It was an impressive and vast array of wooden buildings many with gold painted trimmings. After checking it out we rode to the top of Mandalay Hill for the sunset with hundreds of other Western tourists. By the time we got back to our hotel it was 6:30pm and dark so we ate at the hotel and had an early night.