Karloo Track Family Bushwalk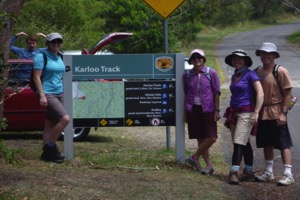 A great Sunday afternoon walk….
We started near Heathcote Station. We set off a bit before 1pm and were back about 6pm.
The walk to the Pools took under an hour as did the return but we continued on past the pools to Uloola Falls and then along Gurrumboola Ridge. On the return we saw some impressive aboriginal rock carvings where the track started to descend from the ridge.
Andrew was busy doing some computer work and couldn't join us but he looked after Ruby.
We returned to Kate and Andrews for a delicious lamb dinner.
here are some photos
Here is a map of the walk