Jakarta, Indonesia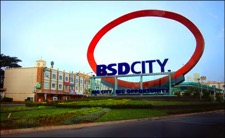 4am Sara arrived in Jakarta after a 44 hour bus journey.....
She emailed to say:
Just letting you know after 44.5 hours travel I arrived safely in Jakarta. The bus dropped me off (again-like in Vientiane) in the middle of the night. I got quiet upset at the bus driver for leaving me abandoned in the middle of a strange city at 4am but since he couldn't speak English he didn't know what I was saying. But there was an open shop and after much confusion if which buses to take I managed to reach my destination.

I am now safely at the house of Sylvia (an Indonesian girl I met on the train in Laos). She lives one or two hours by car from the centre in BSD... Sub urban part of Jakarta: serpong, tangerang, banten.

BSD is "Bumi Serpong Damai", a private and gated upper middle class city development for more than 100,000 people on the outskirts of Jakarta, about 20 km to the South West of the Jakarta Centre.