Dumai, Pekanbaru and on to Jakarta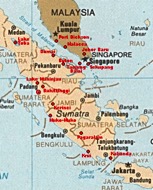 By ferry to Dumai and then to
Pekanbaru
in Sumatra to Jakarta in Java. 1492km
We received an email from Sara which she sent late Sunday evening and today (8th September) she is catching a slow bus to Jakarta.
I am catching the bus to Jakarta tomorrow
(8th September)
... Leaving parka baru
(Pekanbaru)
at 12pm... The bus takes 2days (longest bus trip ever). bus company is called Lorena and 410 00 Rupiah.
(assuming 410,000 which is about AU$37.00)

my notes in red


I wrote this back to Sara:
Finally after a long search Annette worked out the place where you are:


Pekanbaru
(
Jawi
:
ڤكنبارو
) is the capital of
Riau
, a province in
Indonesia
on the island of
Sumatra
. It has an area of 632.26 km² with a population of 950,571,
[1]
making it Sumatra's third largest municipality, after
Medan
and
Palembang
.
Also after reading about the city it sounds like a nice place for a city: "The cleanest city in Indonesia" and its Motto: "The City of Good Fortune"

Lets hope you have good fortune there.

What a long bus trip! Hope it goes well.

I read about the
Lorena Bus Company
and their 3S Motto : Patient, Polite and Smile. I am a little worried about you being the one needing the patience with that long a trip.