Malacca, Malaysia SARA # 4
The photo above is of a street scene in Malacca taken by Sara.

Malaysia: Malacca (5th of September)

So I was staying in Kuala Lumpur after having caught a bus from China to Lao, a bus from Lao to Thailand, Trains through Thailand and a bus from Thailand to Malaysia.

I decided it was time to get going again before I got lost in a land far far away forever. Terry Valentine and Yati's "Far Far Away" was like a dream... They have a stunning house full of rescued wood features, finishings and furniture which backs onto/is part of wild Malaysian jungle. At night one falls asleep listening to native primates and there are passion fruits and rambutans to be picked at will. It was tempting to think about building my own dream home there and opening a jungle yoga retreat but my longing for home kept me focused :)

I caught a bus from Kuala Lumpur to Malacca to catch the 3pm Ferry to Dumai (Indonesia). Unfortunately the 3pm Ferry was non existent!!! It is super difficult to get reliable travel info on the internet about Indonesia. So I was "forced" to spend the night in Malacca. It turned out to be a lovely city though. The city is set on a river and quiet vibrant. I spent first hour walking with my 25kg packback looking for a vegetarian option for lunch. After an hour of no luck and carrying my bag the whole time I relented and had fish soup. Afterwards found a hostel 15 Ringgit dorm room a night (AUS$5) with fan and right in centre of the city. I was there only guest so the dorm room turned inti a private room. The owner was a super friendly Indian man who recommended Indian restaurant for diner... All you could eat vegetarian for 5 Ringgit (AUS$1.70) :) :) :)...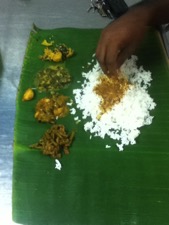 I met some other tourists and we went to see a band in the Hard Rock Cafe. Most of the audience were Muslim Malaysian only drinking soft drinks so they were quiet tame (nobody was dancing, just sitting at tables) but it was very nice to see the women in their head dresses head banging (a bit) as they sipped on their soft drinks.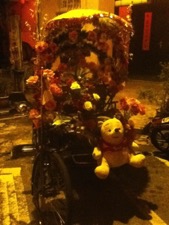 Another Malacca photo sent by Sara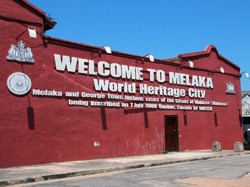 This is just a photo from the web of Melaka or Malacca. The port on the Malacca Straits which is less than 50 km across from Malaysia to Indonesia.