On the road again, well train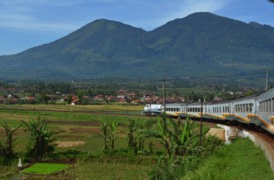 3:30 train from Jakarta to Surabaya 725km

Sara emailed today to say:

I am about to leave to take train from Jakarta central station to Surabaya (pasar turi). The train is at 3:30 but we have to leave here at 12:00 and go through the crazy Jakarta traffic...

I am getting tired of travelling and meeting new people and always having to be on my best behaviour ;)... I long for the comfort of home!

The train arrives in Surabaya about 2:20 am. It is 725 km East along Java and an 11 hour train trip. The trains do look pretty comfortable. It is then another 300 km to Banyuwangi, the furthest eastern town on Java before a short ferry across to Bali.