New Front Fork Fox 40s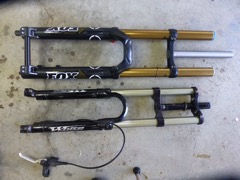 New Fox 40 Forks (~12,542)
The Forks are a 2015 FOX 40 RC2 FLOAT
Bought from Pushy's in QLD: this is part of the receipt dated 22nd May 2015
Fox Racing Shox 40 FLOAT 26 203mm FIT RC2 Fork 2015 Black



FF91001651

1


$1,199.00


Subtotal


$1,199.00


Shipping & Handling


$20.58


Grand Total




$1,219.58

explaining each of these terms:
40 = the diameter of the lower stanchion or leg.
FLOAT = this indicates it is an air shock rather than oil or spring.
26 = The size of wheel it will take
203mm = the length of travel
FIT = "Fox Isolated Technology" using oil and air isolated by a bladder to improve suspension
RC2 = Rebound and Compression dampening system
other useful terms
NOB =
Height from centre of axle to lower crown race = 571.2
±
5 mm compare this to Ventana spec which is 494mm I think.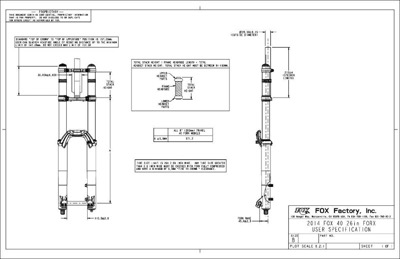 For a weight comparison: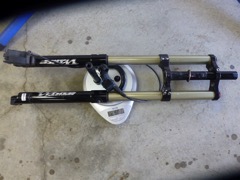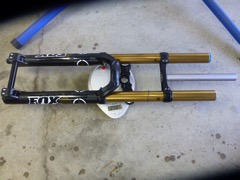 The old fork with brakes weighed 2900 g
The new fork weighed 2785 g plus brakes 272 = 3057 g so about 150gm heavier.
HERE
IS THE SERVICE MANUAL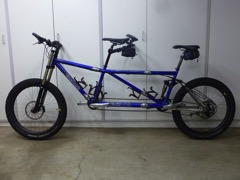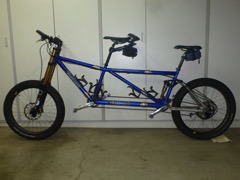 before any new shocks……………………………..and after with new front and rear shocks.
The front is about 8" (200mm) travel
The rear is about 5.6" (142mm) travel
The bike is considerably higher:
Tandem Heights with new shocks October 2015

















original height

rear shock only

difference

both front & rear shocks

final increase



Stokers seat


980


1010

30

1015

35





Captains Seat


1082


1095

17

1126

44





Boom Rear


345


360

15

372

27





Boom Front


355


365

10

405

50





front chain ring clearance


305








350


45





bottom of front crank


190








240


50





top of front crank


570


580

10

615

45





front crossbar standover Front


883








935


52





front crossbar standover Back


760








805


45





top of crown


1020








1068


48



















wheel base


1815








1845


30





total length